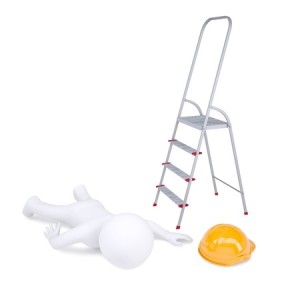 Work-related injuries that require emergency care
When should you take a co-worker to seek emergency care for a work-related injury? This past year, private industry employees suffered nearly 3 million non-fatal work-related injuries and illnesses in the U.S. That's nearly 8,000 every day. Although the numbers of work-related injuries have been falling over the years, when it happens to you or a co-worker, you need to know how to respond.
Falls that involve a bump to the head, or heavy objects falling and striking the head, can lead to concussions. We are now becoming more aware of the serious, long-term and even life-threatening consequences of concussions. This is a major issue among work-related injuries. The following symptoms can be signs of a concussion immediately after a work-related injury. If a co-worker exhibits any of these, take him or her to receive emergency care.
confusion, agitation, restlessness
slurred speech, trouble walking or other signs of decreased coordination
weakness
numbness in the head or other parts of the body
severe or worsening headaches
vomiting
seizures
convulsions
Hand injuries
A shallow cut or a pinched finger might seem like nothing to worry about, but work-related injuries involving a hand can lead to life-long disability. Seek emergency care for any of these symptoms:
severe bleeding
numbness
loss of motion or strength
exposed bones or tendons.
Eye injuries
Most people will seek attention for an eye injury without question. But you do need professional medical attention if you see cloudy, dark or bright areas in your vision. These can be signs of serious and potentially permanent problems stemming from work-related injuries.
Lacerations
Cuts, scrapes and puncture wounds can lead to extreme bleeding and nerve damage. Some can be minor, but seek urgent care for any of these symptoms:
weakness or numbness
inability to move a finger or other injured area
pre-existing conditions such as diabetes, heart disease or circulation problems.
Also, you should seek urgent care for any work-related injuries involving puncture wounds or foreign materials or objects entering your body.
Trauma
Bone sprains and breaks require urgent care. For breaks, call 911 and immobilize the affected area. For ankle sprains, remember the RICE approach: rest, ice, compression and elevation.
Rest the ankle. Do not put any weight on it. Assist the injured person to a chair or safe area to rest, or to transportation to urgent care.
Ice. Apply an ice pack or even a bag of frozen peas or corn to the sprained ankle.
Compression. Use a compression bandage to help control swelling, and immobilize and support the ankle.
Elevation. Recline and raise the ankle above the waist.
Burns
Minor burns can usually be treated in the workplace or at home without professional care. More severe burns, and all chemical burns, require professional emergency care as quickly as possible. Quick action is important for any kind of burn. Immediately cool the burned area with cold water, ice or even snow. Give the victim a painkiller and apply a soothing cream or gel.
If the burn only appears as redness on the skin in a small area, it's probably a first-degree burn, which usually heals within seven to 10 days. If the burn is to a large are of skin—more than 3 in. across—seek emergency care. More serious burns can result in blisters, which can pop and leak. It's important to keep the burns clean to prevent infection. Immediately run cool water over the burned area for 15 minutes, take pain medication and apply an antibiotic cream. Don't use cotton balls, as the thin fibers can stick to the wound and lead to infection.
Third-degree burns penetrate through the skin to the flesh, tendons and bones below. They can also cause extensive nerve damage. They're distinguished by severe symptoms, such as waxy and white color, charring to the skin, a raised and leathery texture, and blisters that do not pop or heal. Call 911 immediately if you or a co-worker experiences a third-degree (or worse) burn, or any kind of chemical burn.
Don't delay emergency care
With work-related injuries, time is of the essence. Delaying professional treatment of cuts, burns, sprains, breaks, concussions and other injuries can lead to permanent problems. Seek emergency care right away at FirstMed Urgent Care Clinic in Cottonwood Heights.