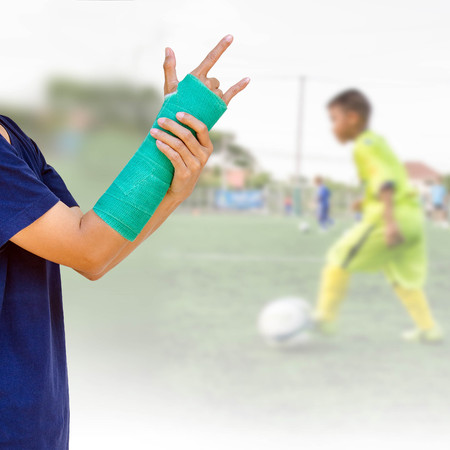 Back to school can be a hazardous time, thank goodness for urgent care!
While parents collectively breathe a sigh of relief as the school year jumps into full swing, students may be facing some of the biggest hazards of all. Sure, it's great to get the kids back to school in the fall, but parents, teachers and healthcare providers need to be aware of the most common schoolyard injuries requiring urgent care.
According to the Utah Department of Health, more than 5,000 school days are missed by students every year in the state due to a school-related injury or illness. Nearly 70 percent of injuries that happen to elementary students occur on the playground, and two-thirds of those injuries happen during recess.
What causes the most schoolyard injuries?
The number one cause of a schoolyard injury that requires urgent care? Falls; especially those resulting from slips and trips – 55 percent of all major accidents in educational facilities start with a trip or a slip.
Thankfully, most trips result in no injury, but they can lead to serious harm that requires not only first aid, but also a visit to the urgent care clinic.
Types of injuries
The head is the most common part of the body to be hurt at just under 40 percent, followed closely by upper extremities (shoulders, arms and hands). The trunk is the area next hurt most often, at 13.3 percent, and legs and feet 8 percent of the time.
The most common types of injuries are fractured or broken bones, cuts, bumps and bruises, sprains and concussions. And the Department of Health warns that most injuries are preventable.
Neck injuries can be the result of sudden, awkward movement, a fall or a collision on the sports field, causing sharp pain. Sprained and twisted ankles are also very common, especially as excited children run across uneven surfaces like playgrounds and sports fields, or when they jump off playground equipment and climbing structures.
Scrapes, bruises and cuts to knees are also common when kids slide on the ground or fall. Young athletes who forget to warm up before sports can also require medical attention.
Wrist injuries often occur when a child tries to break their fall by putting their hands out. It's a natural reaction, but it can lead to a sprain or a break, requiring urgent care.
Where do accidents happen?
The most common places for school-related injuries are hallways, playgrounds, parking lots, common areas and stairways. Wet ground, slippery floors and stray items on the floor where they shouldn't be are hazards that can cause injury requiring urgent care.
In classrooms, bags lying on the floor and cables for computers and TVs are common tripping hazards.
Defective sports or playground equipment are frequently the culprits behind an injury. School staff and administrators are responsible for ensuring that all equipment is in good condition for the purpose it's intended for, and stored properly when not in use. Even when all the equipment is in perfect condition, though, certain sports are inherently dangerous. Supervision of all athletic activity is crucial.
Defective desks, chairs and other classroom equipment can also cause serious injury and a trip to the urgent care clinic. Classroom furniture should be checked regularly to make sure it's not hazardous.
Doors are also the cause of many school injuries, as students get hit by an opening door, or get fingers caught in a closing one. There are finger guards available to prevent the latter injury.
Food poisoning
The improper storage and preparation of food in school cafeterias can, and too often, does, lead to food poisoning. Even kids who bring their lunches from home can become ill from improper storage, especially during warmer times of the year.
Bullying
In this day and age, we have to be aware of incidents of bullying in schools. Fights, assaults and mean pranks can often lead to serious injury, including broken bones and concussions. Supervision and instilling an anti-bullying culture in the school can go a long way toward preventing bullying and the resulting need for urgent care.
Where to go for urgent care
Despite all the precautions we can possibly take, unfortunately kids will be injured on school grounds. When a child in your care needs urgent care in West Jordan Utah, you can always turn to a FirstMed Urgent Care clinic.