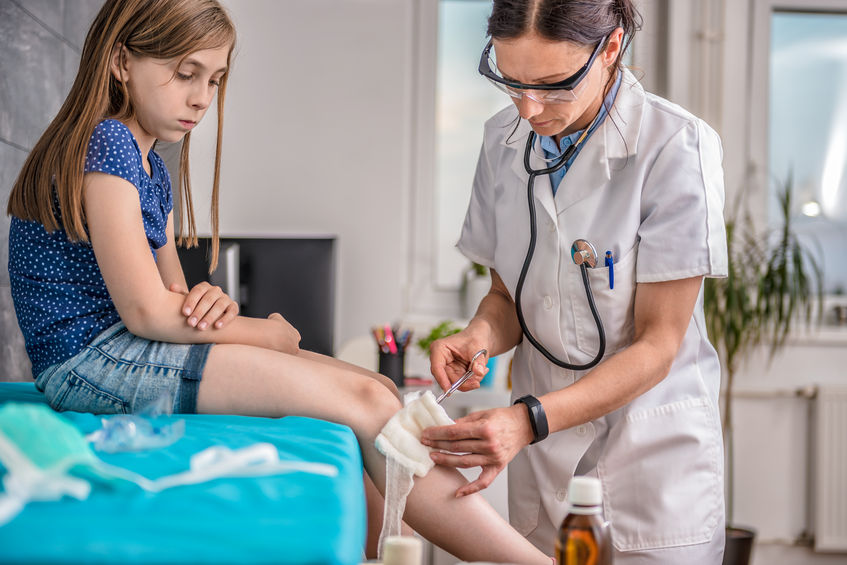 How to keep kids healthy and safe this summer
No one plans to visit the urgent care clinic, especially when summer is here. We want to enjoy the hot weather, sunny skies and extra free time. Kids, especially, love the freedom of being out of school in summer. They can swim, play sports, hike through nature and spend unstructured time with their friends.
Unfortunately, with the added freedom, kids can get injured, requiring a trip to the urgent care clinic. As parents, you need to know what injuries you can deal with, which ones need an urgent care clinic, and what situations require the help of an emergency room. Fortunately, there are some pretty simple things you can do to reduce the likelihood you'll need to make that trip to the urgent care clinic in the first place.
The main reasons kids need urgent care
Drowning: While drowning is rare, the rate doubles in summer compared to the rest of the year. It's not noisy — children tend to sink quietly and quickly under the water. By all means, teach children water safety and swimming, but never let them swim alone or without adult supervision. That means you're not sitting beside the pool, reading a book — you're paying attention to the child the whole time they're in or near the water. And for children under 5 years old, you need to be in the water with them, less than an arm's length away.
Bike accidents: Bicycle-related injuries and deaths increase 45 percent every summer, according to U.S. News. Head trauma from bicycles is one of the most easily preventable injuries. All you need to do is ensure that your children wear a properly fitting bicycle helmet, approved by the Consumer Product Safety Commission.
Automobile accidents: Make sure children smaller than 4-foot-9-inches and weighing less than 80 pounds ride in a properly fitting car seat or booster seat, and everyone larger than that is wearing a seatbelt at all times. Motor vehicle accidents account for nearly 200,000 injuries to people under age 14 every year — and thousands of deaths, as well.
Pedestrian accidents: Kids are outdoors more in the warm weather, and those under 10 years may not have the ability to judge speed or distance of moving vehicles. Supervision of smaller children is key, as is education on road safety for older kids. Safe Kids USA recommends that adults walk completely around their vehicle to make sure that small children are not playing or sitting behind or under the car before starting the engine.
Burns: Barbeques, campfires, fire pits and fireworks are all attractive to kids. According to the Centers for Disease Control, a third of people injured by fireworks are under age 15. Close supervision around fireworks and all other heat sources is essential to avoid that trip to the urgent care clinic.
Falls are the leading cause of non-fatal injuries to children all year round, and spike 21 percent during the summer. More open windows, playing on the jungle gym, climbing trees and rocks and other summer activities can be fun, but can be dangerous, too. Safe Kids USA recommends supervision and well-fitted, rubber-soled shoes to reduce falls.
Accidental strangulation: Anything that hangs around the neck, even a hoodie, can get caught when a child is on a play structure, bicycle or other equipment. Strangulation causes half of all playground deaths among children.
Dehydration: Kids who are playing sports or otherwise active in the hot weather can become dehydrated even before they feel thirsty. In hot weather, make sure they drink before engaging in sports, and take a fluid break at least every 20 minutes. Watch for signs of lethargy or grogginess.
Urgent care clinic or emergency room?
Go to the emergency room for acute, life-threatening injuries or illnesses. Remember that the ER will treat the most acute cases first, which means you may be waiting a long time with a child who has a fever.
Sometimes it's hard to make the decision, and some parents opt for the ER "just in case." For infants less than two months old who have a fever, head for the ER immediately. Broken bones, severe and sustained bleeding, loss of consciousness, dehydration and infections that can cause loss of life are also signs to go to the ER.
You should opt for the urgent care clinic for:
minor cuts
sprains and strains
rashes and other skin irritations
asthma and wheezing.
The FirstMed Urgent Care Clinic in West Valley Utah is ready for you and your kids, whenever you may need us. Especially this summer!