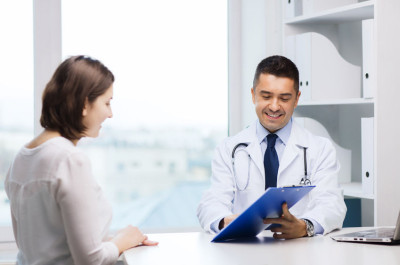 How to talk to your family doctor
A visit to the family doctor can be stressful. You're not feeling well, you may be worried about your symptoms or those of a loved one, and doctors are so busy with other patients, they can't always devote a lot of time to you. This all means there are steps you should take to make sure you get the most out of your time with the family doctor.
Before your appointment, write down a list of all your symptoms along with any questions you'd like to ask your family doctor. Also write down all the medications you take, including the amount, doses, how often you take it. Don't leave out non-prescription medications, such as over-the-counter pain killers, supplements and vitamins. Include information about any side-effects, such as whether medication makes you feel sleepy or nauseous.
If you're dealing with a long-term issue, think about keeping a "health journal." Write down each day your symptoms, how you feel, how you sleep at night, medications you take and the food you eat. Include information about your life, such as major events, changes, sources of stress. Take it with you to your appointment.
At your appointment
If you feel you need someone to help, bring an interpreter or supportive family member or friend. Even if your English is fluent, it's often helpful just to have that moral support.
Plan your time, and arrive on time for your appointment. Arriving late means you may get less time face-to-face with your family doctor.
Don't let embarrassment keep you from describing your symptoms — your family doctor needs all the information you have to be able to assess the issue and prescribe the right way to treat it. Include your emotional and spiritual concerns: how does this health issue or a prescribed treatment make you feel? Often it helps just to be able to talk about these issues.
Tell your family doctor about your hopes for the future. What is important to you — playing sports, spending more time with family, taking a trip? What are your worries about the future?
During the appointment take notes, or ask a friend or family member to take notes for you.
Before you leave
Before the appointment is over, review your notes and repeat the family doctor's prescribed treatment and suggestions the way you understand. Make sure it's clear to you.
Ask questions about anything you don't understand about causes and symptoms.
-

What is the treatment, exactly? If it's medication, how strong is it? Exactly when and how should you take it — with food, on an empty stomach, in the morning or before bed?

-

Are there any choices or alternative treatments? Why did the family doctor choose this prescription? What are the pros and cons of each, such as possible complications or side effects?

-

Is there anything you need to avoid while taking the prescription or following the treatment? For example, should you abstain from alcohol while taking a new medication, or avoid certain activities? Are there any changes or accommodations you should ask your employer for while you are taking this treatment?

-

What should you do if you have side effects or complications?

-

How long do you need to take the prescription or treatment? Can you stop when your symptoms go away?

-

Best way and time to contact the family doctor or the office with follow-up questions, or to advise them of changes in your symptoms, side-effects or complications? Can you telephone or email?

-

What are the next steps: tests, appointments with specialists, follow-up appointments?
Next steps
Remember that nurses at the clinic, and pharmacists, are also excellent sources of information.
As an urgent care clinic and family doctor in Salt Lake City Utah, FirstMed is always available to help you with any medical concerns.