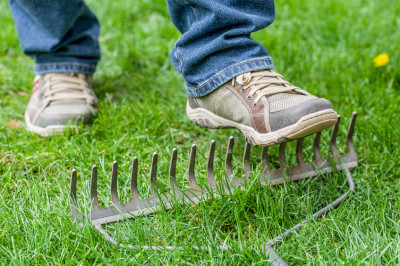 First aid before taking someone to the urgent care clinic
Spring is around the corner, and it's time for people to get outside, clean up the lawn and garden and fix winter's damage. It's also a time when accidents and visits to the urgent care clinic spike: falls off ladders, sprains, cuts and sometimes serious injuries that may require professional treatment at an urgent care clinic.
Usually, these types of incidents require immediate treatment on the spot. Here are some first aid tips everyone should know to treat an accident victim before taking them to an urgent care clinic.
Cuts and wounds
A minor cut can usually be treated at home with a little soap and warm water and a bandage. But a major wound can require professional care.
How do you tell whether someone near year has a minor or major wound? There are clear signs. A scrape may ooze blood slowly, but a cut with flowing blood will need a trip to the urgent care clinic.
Remove any debris or foreign objects from the wound. If it's a minor cut, wash gently with warm water and soap. Don't apply disinfectant into the wound — that will only cause pain without having any benefit. If the victim is suffering a wound where the blood flow pulses, it's an arterial cut, and potentially fatal.
Don't hesitate. Remove any foreign objects or debris from the wound, and press a bandage, gauze or clean cloth against it. If you cannot find a clean cloth, use whatever's at hand. Call for an ambulance and don't move the victim.
Burns
There are three degrees of burns. A first-degree burn affects just the top layer of skin. You can tell it's a first-degree burn when the skin is reddened and painful, but not blistered. As the skin heals, it can peel.
To treat first-degree burns, run cold water over the area to bring down the temperature. Make sure the affected area is clean, to avoid infection, but don't wipe it with cotton balls. The little fibers can stick to the burned skin, encouraging infection.
Give the victim over-the-counter pain medication such as acetaminophen or ibuprofen. You can apply anesthetic gel or cream to soothe the pain, and protect it with loose gauze.
Don't apply ice because this can make the damage worse. Also avoid the legendary home remedies of butter or margarine to the wound. They just don't do anything.
Seek professional medical care if the burn is larger than three inches across, or on the face, knee, foot, spine, or other major joint.
A second-degree burn penetrates beyond the top layer and causes blisters and thickening of the skin. The blisters can break, increasing the risk of infection.
To treat them, run cold water over the burn for at least 15 minutes to cool it. Administer over-the-counter pain relief, and apply antibiotic cream.
Take the victim to the urgent care clinic if the burn is large, or affects the face, hands, buttocks, groin or feet.
Third-degree burns penetrate through all layers of the skin. You can tell them by a waxy, white or a dark brown color, or charring of the skin, and a raised, leathery texture without blisters. These will cause severe scarring unless they receive medical treatment.
Do not try to treat a third-degree burn yourself. Call 911 immediately, then make sure there is no clothing sticking to the burn. Raise the injury over the level of the heart.
Falls
Falls from ladders, roofs and stairs can lead to sprains and breaks. A sprain is over-stretching, or tearing to a tendon or ligament, while a break is a fracture to bone. Both can cause swelling.
You can tell it's a sprain when there is pain around the soft tissues, but not on the. Pain in the boney area of the ankle, for instance, indicates a break. A sure sign of a break is that the person is not able to put any weight on it.
The treatment is RICE: rest, ice, compression and elevation. Help the victim to rest comfortably. At least 24 hours of rest for the sprained joint is essential. Apply ice to reduce pain and swelling, but never apply ice directly to the skin — that hurts. Make an ice pack in a plastic bag, then wrap it in a towel to apply to the injury.
You can apply a compression bandage on a sprain, and then elevate the sprained joint above the level of the heart. You could put pillows under the foot as the victim lies on a bed or couch. Whether it's a sprain or a break, you should take the victim to an urgent care clinic as quickly as possible.
Heart attack
Heart attacks are the cause of one in seven deaths in the United States. They're caused by a blockage of arteries that lead to the heart. Symptoms include pressure, pain or squeezing sensation in the chest, back, jaw or neck; nausea, indigestion or abdominal pain; shortness of breath; cold sweat; fatigue; and light-headedness or sudden dizziness.
Symptoms can appear suddenly, but there are advance warnings days or weeks in advance, such as recurring chest pain that can be relieved by rest.
When you see someone with the signs of heart attack, call 911 immediately. Don't hesitate. Start CPR — cardio-pulmonary resuscitation. If the victim is conscious, take them to the urgent care centre or emergency room as quickly as possible.
Learn first aid, but just in case, an urgent care clinic is here for you
These are just a few tips for first aid everyone needs to know today. Use them to the best of your ability, and don't hesitate to seek an
urgent care clinic in West Valley Utah
.