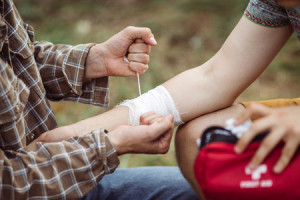 Create a temporary urgent care clinic in the wilderness
Can you take an urgent care clinic into the wild? The great outdoors is one of the best attributes of life in Utah. But when you're out enjoying the fresh air and breathtaking vistas, you have to be ready for any emergency. What do you do when you need the services of an urgent care clinic yet are miles away from civilization?
Many of us enjoy hiking, running, canoeing or kayaking, camping and many other ways of communing with our natural environment. And as beneficial as those activities are for our physical and mental health, problems can arise. When you are several hours away from an urgent care clinic, you have to be prepared to take steps yourself.
The most common outdoor injuries include:
burns
cuts
blisters
dehydration
heat exhaustion
hypothermia and frostbite
allergic reactions
insect and animal bites
sprains
broken bones
If you're facing an emergency far from an urgent care clinic or first-aid facility, the most important thing to remember is wilderness first aid. You have to be ready to stabilize the patient until you can get to professional emergency medical help.
Be prepared
As the Boy Scouts like to say: Be prepared. Before you leave on your journey into the wilderness, pack a fully stocked first-aid kit including bandages, sterile gauze, adhesive tape, scissors, tweezers, pain-killers, antiseptic wipes or soap, disposable non-latex gloves, a barrier device such as a face shield or mask, and phone numbers for poison control and emergency response.
Tell someone where you plan to go, when you're leaving and when you plan to return.
Avoid emergencies
The best emergency-care strategy is to avoid having to go to an urgent care clinic. Planning can make the difference. On a long hike, make sure you bring enough water and easy-to-carry food such as granola bars, nuts, chocolate and other energy-dense snacks. To avoid dehydration and heat stroke, make sure everyone in your party drinks plenty of water. The hotter the day and the more strenuous the walk, the more water everyone will need.
Wearing the right clothing. Remember that footwear is also important. Dress to match the weather. If you're going out in cold weather or into high elevations where cold is a concern, bring warm and waterproof clothing.
Dress in layers. If temperatures are higher than you expect, you can always remove layers.
Wilderness first-aid tips
In an emergency situation when you're the only one able to respond, think like a first responder. Remember the basic three phases of wilderness first aid:
Assess the situation. Is the patient in imminent danger of further harm? Would helping him or her put a responder in harm's way? Is the situation stable? For example, slipping and falling is an imminent danger on a steep slope. A patient in a river is in danger of drowning, and the same risk faces anyone who enters the water to help.
Treat the emergency. When you have determined that a situation is stable, treat the injury. Foot blisters can be treated relatively easily, for example. You can find a safe place to sit, assess the injury and apply the appropriate treatment.
Get the patient to emergency medical care. Only after a patient is stabilized should you move him or her. Consider the patient's state. Can he or she walk with help? You will have to assess the circumstances carefully to determine whether you can take the patient out of the situation to an urgent care clinic or whether you need to call for an emergency response evacuation.
Administer pain killers such as acetaminophen or ibuprofen. In the event of an upper-body injury, the patient can often be evacuated by his or her companions. Before moving the patient, though, make sure any breaks are stabilized. For broken or sprained arms, use a sling to tie the arm close to the body so that it moves as little as possible.
When broken or sprained legs are involved, the best response often is to wait for emergency evacuation to an urgent care clinic. If that's not possible, stabilize the injury using splints to reduce movement and pain.
Whether you wait for evacuation or do it yourself, being prepared with the right clothing, first-aid supplies and, most importantly, knowledge. If you need expert medical care, take your patient to FirstMed Urgent Care Clinic in West Valley Utah.