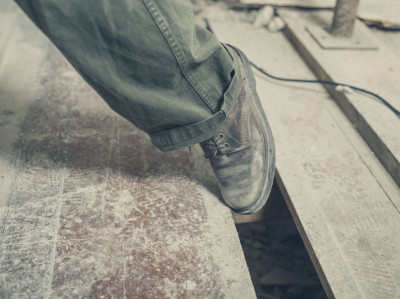 Tips for avoiding workplace injuries that will land you in urgent care
During the working day, many cases arriving at an urgent care clinic are workers who are injured on the job. Despite an increased focus on workplace safety, millions of American workers are injured on the job every year, and nearly 900,000 injuries on the work site that required the employee to take time off work.
The tragedy of workplace injuries is not just the required trip to urgent care; it's that many are preventable. Knowing where the hazards are and some simple tips can help you avoid a trip from the workplace to the urgent care clinic.
What drives workers to urgent care
The most frequent causes of workplace injuries seem commonplace: slips, trips and falls, being struck by an object or equipment, and overexertion. These may seem innocuous, but in a manufacturing operation, they can be serious enough to send the injured employee to the urgent care clinic.
Workplace injuries can also be costly for the employer, with serious impacts on productivity. The U.S. Department of Labor reported 2.9 million workplace injuries and illnesses in private industry in 2016. While this is down by 48,000 compared to the previous year, it's still a lot of pain and suffering, and cost. Injuries in the manufacturing industry led to a median of nine work days before the injured worker could return to the job. In the meantime, the employer either loses the productivity of that employee, or must scramble to find someone else to fill in.
They can be even more serious. In 2016, 991 workers in private construction businesses were killed as a result of workplace injuries. Again, the main causes were falls and being struck by an object. In construction, the next leading cause of death on the work site was electrocution, followed by being caught/in-between. According to the Department of Labor, eliminating these "fatal four" causes could save more than 600 lives every year.
Tips to avoid workplace injuries
The first step is to know the hazards of your workplace. When you start on the job, familiarize yourself with the work site, noting the location of all equipment, high racks, stairs, steps and any other hazards.
Point out possible hazards or causes of accidents to management, such as a worn cable, strap or safety guard on equipment. Broken windows or spilled liquids may seem like something that can be fixed later — until someone gets injured.
Materials lying on the floor, requiring employees to step over them, may not seem like a serious issue — until an employee trips and sprains an ankle, required several days off work. Stay alert on the job. Statistics show that most of the workers who suffer accidents on the job are tired or sleepy.
Employers in manufacturing and construction are required by law to provide safety training to all employees, full-time and part-time. Follow all the safety rules, guidelines and posters. Do not take shortcuts or avoid wearing safety harnesses and gear. This includes hard hats, safety goggles, gloves, face masks, safety shoes and earplugs.
Never take on a high-risk job you have not been trained for. This exposes you to risk unnecessarily. Never over-reach for a tool, equipment or materials. If you need to strain to reach or lift something, stop and move, or use lifting equipment.
When picking up a heavy object, bend with your knees and lift with your legs, and not your back. Don't be afraid to ask for help or equipment if it's too heavy.
If you need urgent care
Don't hesitate to seek out professional urgent care in West Jordan Utah if you do suffer a serious workplace injury. "Walking off" a sprain or a blow to the head can lead to more serious conditions, possibly long-term or even permanent.